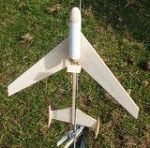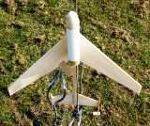 Brief:
A retro boost glider that was purchased for me by my nephew and niece for my birthday. This was the first model rocket that I have built since I had a stroke--and it proved a bit of a challenge.
Construction:
The kit comes in a bag and contains:
motor mount
2 balsa sheets of parts
balsa nose cone
decal
launch lug
The balsa was light, strong, and very good quality.
One of the problems that I have had since my stroke is that I find it difficult to read and understand what I have just read. Also, diagrams are hard to follow. I see things drawn in 3D as 2D. Having said that, this was a well laid out set of instructions with good diagrams. The only mistake that I made was that I could not "see" the dihedral on the wings and glued then in flat. My brother took them off later and reset them.
Finishing:
I have only flown her naked so far so there has been no finishing yet.
Construction Rating: 4 out of 5
Flight and Recovery:
The first flight was on a A8-3. She boosted straight and high. At ejection, the Hawk flipped in the air and nose dived in fast. I had not glued the nose cone in! (I had read the part about not gluing it in and not gotten the part about gluing it in!) However, the glider was undamaged and I found the nose cone.
After a quick field repair, the second flight was made, again on a A8-3. At ejection, the rocket split it two; both parts came tumbling down.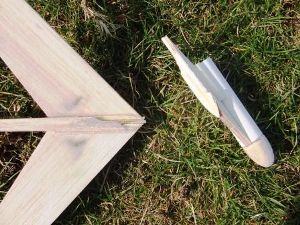 When I got both parts back, it was clear that the balsa had failed and not the glued seams. I'll repair her and I'll add a hole in the motor mount to vent some of the gases from the Estes shot gun ejection charge.
Flight Rating: 2 out of 5
Summary:
I have seen other Hawks fly and I like them. I think I was just unlucky with my second flight.
Overall Rating: 3 out of 5