Brief
Here I go again. For those of you that have followed my Goonyness this was Baby Bertha kit bash #14. Again this is not a kit review of the original Estes Hawkeye (Kit #0873) [1986-1996]
It is another of my many kit bashes. All fin patterns and decals came from http://www.spacemodeling.org/JimZ/est0873.htm. The major difference again being that mine is a Goony version of the Hawkeye and as such is built with a BT-60 tube instead of a BT-5 tube that was used in the original. As a result it also has an 18mm motor mount instead of a 13mm.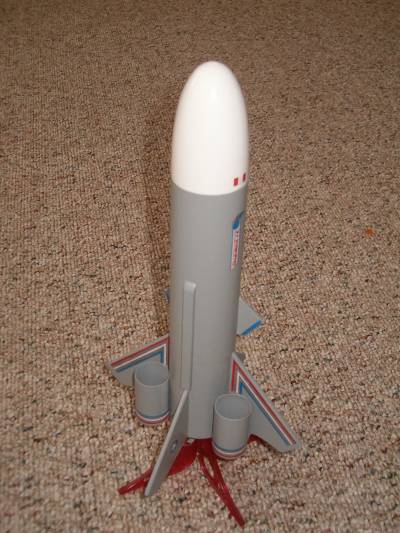 Components
As stated this is another kit bash so the main components are as follows:
From Baby Bertha kit:
From my stock supply:
2- Sheets Printer Paper (one for covering balsa and one for printing out new decals)
1- Yellow E engine guide from a previous Estes kit (cut down to two 1.5" tubes)
Construction
As with the previous Goony builds this was a by the book build. Instructions were down loaded and followed step by step. Once again the only Con: being that I had to draw and cut all new parts from fresh balsa.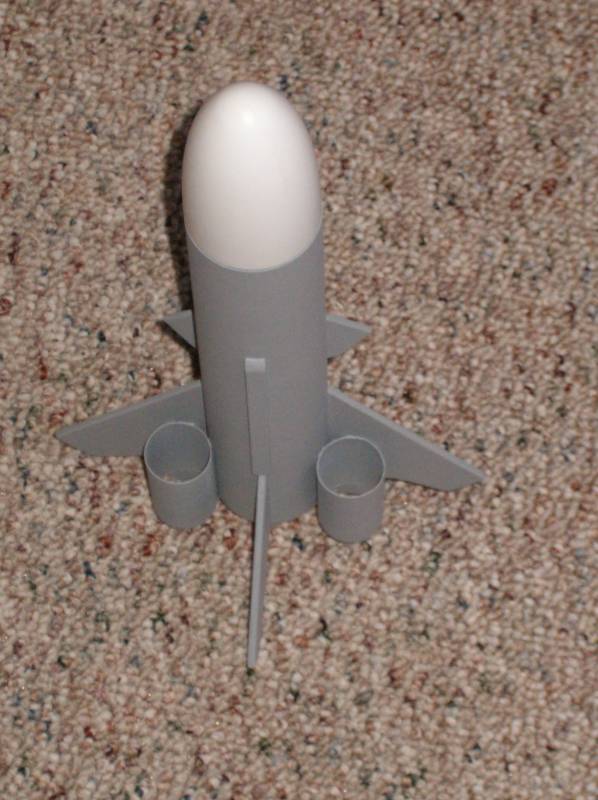 Finishing
Finishing was again done in my standard fashion of first applying two coats of Rust-Oleum 2x primmer with light sanding between coats. Then I applied two coats of Krylon Light Grey to the body while the NC got two coats of Krylon Gloss White. Rocket was then left to air dry over night. Decals were printed on paper then clear coated with Krylon Clear Coat. After allowing to dry they were cut out and trimmed and attached with a glue stick as is my standard for all these kitbashes. After checking again to make sure all were firmly attached I gave the rocket two coats of Krylon Clear Coat to seal on the decals. The only Con: is that I'm still using printer paper to print out the decals. They would look a lot better if I could get my hands on some decal paper but I built these on a tight budget and basicly what I had on hand.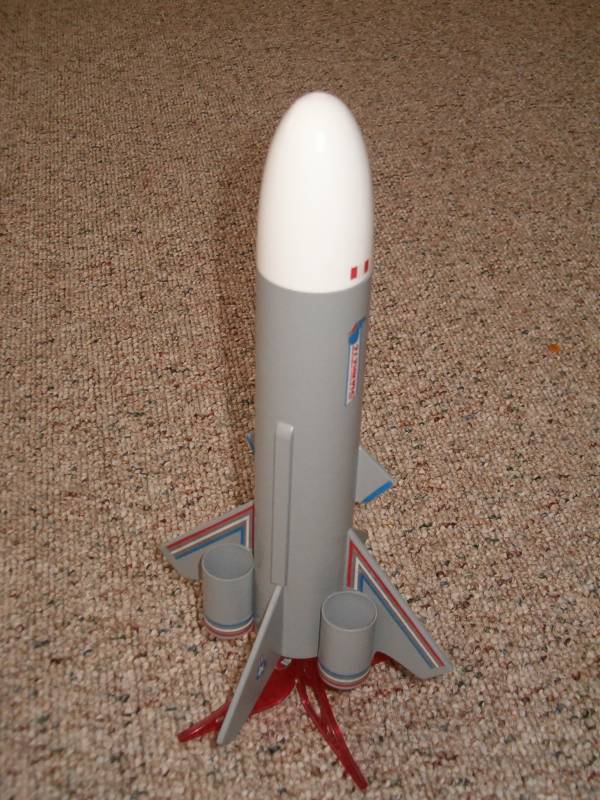 Construction Score: 5
Flight
Once again the maiden flight was at a S.M.A.S.H. club launch on 06-20-10 and was another picture perfect flight so good that I again forgot to take photos. That was the only Con: I hate it when I forget to take pics.
Recovery
This rocket has one of the new Estes orange plastic parachutes with a 3" spill hole cut in it which was perfect for this flight. Rocket came down at a nice safe decent speed and landed without any damage a short distance down range.
Flight Rating: 5
Summary
Another great flier and one more beauty to add to my Goony fleet.
Overall Rating: 5