Brief
In all fairness I can't do a brief description on this kit as there is a small story behind it. As is normal for me this is not an actual review of the Estes NASA X-15 (0889) [1988-1989].
It is a kit bashed, clone by transition. I came about the idea of doing the X-15 as the G-15 after building my first eight Goonybirds. The logical choice was to wait until the 15th Baby Bertha kit bash and then do the G-15 (Goony-15). Well as luck would have it I built her like I was building a Goony only to discover in the end that the original kit was a BT-60 based rocket and that I merely had to do a nose cone swap to make it a modified clone.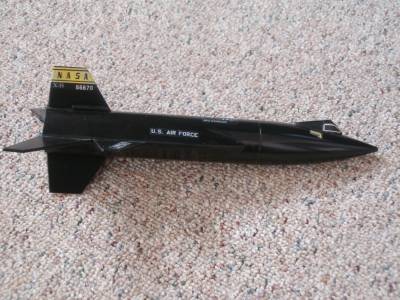 Components
As I said this was a kit bash-clone project so the main components were as follows:
From Baby Bertha kit:
1- BT-60 Body Tube
1- PNC-60 Nose Cone (swapped out after first flight)
1- Launch Lug
1- Engine Hook
1- Shock Cord
1- Assembled 12" Parachute (transparent orange plastic)
1- Mylar Retainer
1- Green Engine Block
1- Blue Engine Mount Tube
1- Centering Ring Card
1- 1/8" Sheet of Balsa
From my personal stock:
1- Sheet Computer Paper (for printing new decals and covering all balsa wood)
1- Empty Cereal Box (for making Wing Shrouds)
1-PNC-60AH Nose Cone (from one of my old semi-retired Estes Prowler's)
Hobbylite filler by Hobbico (for molding canopy & filling gaps)
Construction
Construction began by going to http://www.spacemodeling.org/JimZ/estes/est0889.pdf to down load the instructions, fin patterns, and decals. With these in hand I began the only real modification in the build and that was the construction of the 18mm motor mount that came with the Baby Bertha kit. The original X-15 kit came with a 13mm mount. Once that was finished the rest of the build went according to plans. The only Con: was the wing shrouds as I had to be very careful when cutting them out and then gluing them on. After they were glued on though they looked great.
Finishing
Finishing was straight forward. I first applied two coats of Rust-Oleum 2x white primer with light sanding between coats. Rocket then got two coats of Krylon Gloss Black and allowed to air dry overnight. Decals were then printed out on standard printer paper and Clear coated. These were then cut out and attached with a glue stick. After confirming none were loose I gave it two last coats of Krylon Clear Coat to seal on the decals. The only Con: was using printer paper for the decals but my budget doesn't allow for decal printer paper.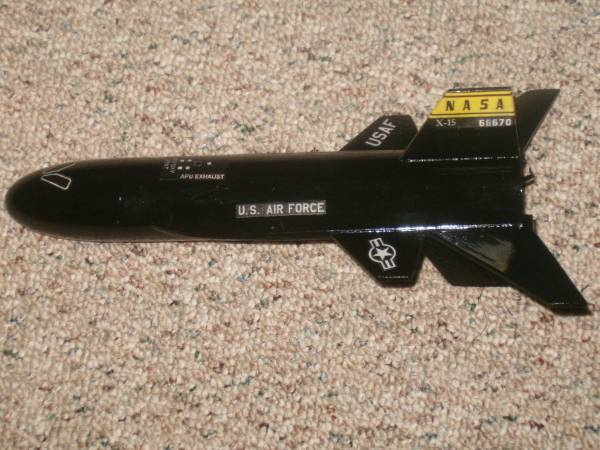 Construction Score: 4
Flight
Maiden flight took place out back of my country home and was OK but not as great as I was hoping for but typical for a Goonybird. Altitude and flight were good but decision was made to start on replacement NC immediately after flight as I wasn't impressed with rockets look and it wasn't a true Goonybird anyway what with the original being a BT-60 based rocket to start with.
Recovery
Recovery was accomplished without any problems. Parachute was deployed just past apogee with a nice decent into neighbors field with no damage.
Flight Rating: 5
Summary
The wing shrouds were a new challenge for me and rewarded me with a great looking bird once I swapped the Baby Bertha NC for one of my old semi-retired Estes Prowler NC's. The NC swapped required a little more work in order for it to look like a clone. I first drew up the base pattern for the canopy on paper and then cut it out. I then took the HobbyLite and started forming the canopy on the pattern. As the hobbyLite started to dry I pressed it onto the NC in order to get the correct curvature. I then allowed it to dry overnight. The following day all surfaces were sanded smooth and canopy was attached with super glue. Canopy was then primed, sanded, and painted black. New decals were printed out and attached followed by a clear coating. Finished NC looks great on rocket.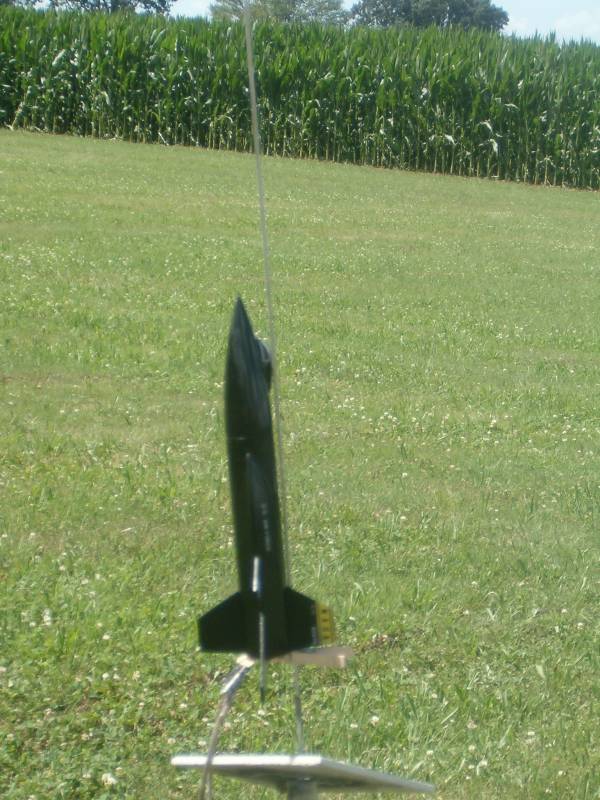 X-15 Clone in 5...4...3...

Second flight for rocket (first with new NC) was on 07-17-10 at a S.M.A.S.H. event in Delton, MI on a B6-4 again. This flight was much better looking and was a text book flight. Rocket climbed nice and high with parachute deploying just past apogee followed by a nice decent with no damage on landing.
Overall Rating: 5