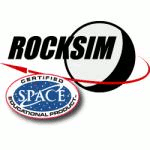 BARCLONE Cadet Rocksim Design File
Comments: Please keep in mind the limitations currently imposed by RockSim v8 concerning fin placement on body tubes which are not on the centerline. This file simulates the pod fins as normal 90-degree-separation 4FNC...
Designer: C. P. McGraw -- BARCLONE Rocketry
Visit Ye Olde Rocket Forum to download Cadet.rkt
To use the design file above, you need a copy of Rocksim, a rocket design and simulation program.
What You Can Do