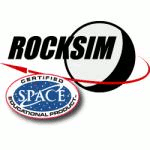 Thark F-52 Rocksim Design File
Comments: Some ballast was needed to allow the parger motors to be used. To keep the amount of ballast down to the minimum, a hole must be drilled to a depth of 5.5" from the back face of the shoulder. A total of 5/8 oz, or 5 - 1/8 oz fishing sinkers, must be epoxied at the forward end of this hole.
Designer: Buzz Nau (Original Design) C. P. McGraw -- BARCLONE Rocketry (RockSim)
Visit Ye Olde Rocket Forum to download F-52_Thark.rkt
To use the design file above, you need a copy of Rocksim, a rocket design and simulation program.
What You Can Do