Dr. Zooch Model Rocket Discoverer Thor Rocksim Design File
Comments: Finished rocket weighed and measured in launch configuration. CG was found by suspension from a string loop at exactly 0.50 inches from the front of the main T-60 tube, or 9.50 inches from the nose tip. The RockSim file has been modified using the CG override to reflect the measured CG, and the all up weight of my model (101 grams ready to launch) has been programmed using mass override. The CP calculation is set to the Barrowman calculation to reflect a more conservative 'worst case'. The nose cone and transition had to be similated in RockSim as two seperate components to get the round tip on the nose cone and the compound transition to appear correctly (as if they were two seperate parts glued together).
Download zooch_discoverer_thor.rkt
To use the design file above, you need a copy of Rocksim, a rocket design and simulation program.
Kit Name: Dr. Zooch - Discoverer Thor {Kit}
Style: Scale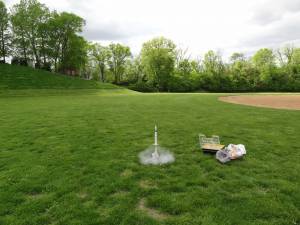 CG: 8.1220 inches from front
CP: 11.7252 inches from front
Margin: 2.20
What You Can Do