Alpha Rocksim Design File
Comments: The dimensions for this rocket were found in the booklet: TR-11. The purpose was to find the Drag Coefficient of a basic and popular model.
Download estes_alpha.rkt
To use the design file above, you need a copy of Rocksim, a rocket design and simulation program.
Kit Name: Estes - Alpha {Kit} (25) [1966-]
Diameter: 0.9800 inches
Length: 12.3000 inches
Style: Sport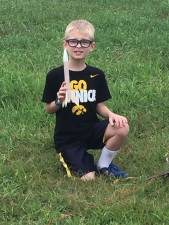 CG: 3.4973 inches from front
CP: 9.1482 inches from front
Margin: 5.79 Overstable
What You Can Do