Astron Trident Rocksim Design File
Comments: Side body tubes (tipped with BNC-5E and BNC5W cones) are simulated by 3/8" diameter custom fins (Note: The 3/8" diameter "fin" should be 1/2" diameter tubes). The inner cones (BNC-50Y and BNC-50J) are not included due to the "invisible" spacer in the mid-section.
Designer: Estes Industries, Inc., (data entered by Charles Keller, based on Kit # K-33 instructions)
Download oop_estes_astron_trident.rkt
To use the design file above, you need a copy of Rocksim, a rocket design and simulation program.
Kit Name: Estes - Trident {Kit} (K-33) [?-?]
Diameter: 0.9760 inches
Length: 31.6250 inches
Style: Futuristic/Exotic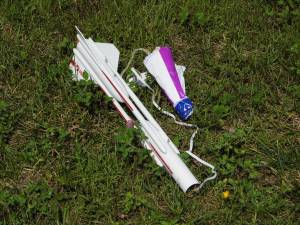 CG: 13.0364 inches from front
CP: 23.3154 inches from front
Margin: 10.53 Overstable
What You Can Do