Farside-X Rocksim Design File
Comments: Here is a typical three-stage design. With RockSim, you can change the radial position of the fins to either line up the fins, or stagger them.
Designer: Out-Of-Production kit. Try ebay...
Download oop_estes_farside_x.rkt
To use the design file above, you need a copy of Rocksim, a rocket design and simulation program.
Kit Name: Estes - Farside {Kit} (12) [1963-1980]
Diameter: 1.6370 inches
Length: 25.0000 inches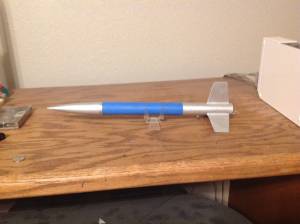 CG: 10.4582 inches from front
CP: 19.5892 inches from front
Margin: 5.58 Overstable
What You Can Do