Ninja Rocksim Design File
Comments: Roc Sim by Ed Hardy Dimensions taken from un - built kit componants of original OOP kit. Engine block installed in current version w/o engine hook. Replaced Card Fins with 3/32 Balsa. Used Mass Over ride to incorporate physical weight and measurement of CG. with Streamer and Shock cord installed.
Designer: Estes Industries
Download mods_estes_ninja.rkt
To use the design file above, you need a copy of Rocksim, a rocket design and simulation program.
Kit Name: Estes - Ninja {Kit} (882) [1987-1998]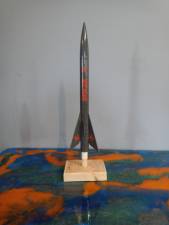 CG: 6.0620 inches from front
CP: 7.9878 inches from front
Margin: 2.62 Overstable
What You Can Do