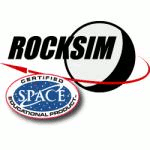 Estes - 3 Bandits Rocksim Design File
Comments: "Three Bandits" is a set of three mini-engine rockets with different fin styles and colors. They are all approximately the same size and mass, and should have similar flight characteristics. This file is for the "green bandit", also designated as "Bandit 2". Masses are from actual measurement during the kit build.
Designer: Estes Industries RockSim file by David J. Thomas
Download 3-Bandits (green).rkt
To use the design file above, you need a copy of Rocksim, a rocket design and simulation program.
Kit Name: Estes - 3 Bandits {Kit} (2435)
Style: Sport
What You Can Do