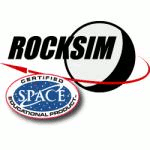 Estes Goblin (upgraded) Rocksim Design File
Comments: This simulation is based upon a kit built in December 2021. The kit was upgraded with a longer motor mount tube to allow the use of Estes E motors and other 95 mm long E and F motors. The elastic shock cord was replaced with Kevlar, and the engine hook was upgraded to E size.
Designer: Estes Industries; Rocksim file by David J. Thomas.
Download Estes Goblin upgraded.rkt
To use the design file above, you need a copy of Rocksim, a rocket design and simulation program.
What You Can Do
---