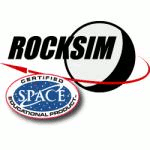 Madcow Rocketry Python Rocksim Design File
Comments: All component masses were measured during the kit build. This file only shows the materials in the kit, which are minimal. The kit includes the fiberglass components, but omits hardware, motor retention, rail buttons, recovery system, etc.
Designer: Madcow Rocketry Rocksim file by David J. Thomas
Download Python_kit_only.rkt
To use the design file above, you need a copy of Rocksim, a rocket design and simulation program.
What You Can Do