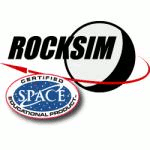 Rocketarium Black Brant IV Rocksim Design File
Comments: Based upon built kit. Although the kit has a booster stage and sustainer stage, functionally, this rocket is single-stage. The fins in the model have some detailing at the base that is not shown in this simulation.
Designer: Rocketarium RockSim file by David J. Thomas
Download BlackBrant4.rkt
To use the design file above, you need a copy of Rocksim, a rocket design and simulation program.
What You Can Do