CraterMaker Rocksim Design File
Comments: Mass adjustments for most parts based on actual weights. Fin material changed from ply to paper to match actual weights Slight overall mass adj (approx 1oz); slight overall cg adj (approx .5in) Paint not accounted for; nor forward rail button, nor epoxy on forward bulkhead. Rocket splits at nose Note to self: before re-design, mass was 101.125 with CG @ 36.125 from nose.
Designer: Geof Givens
Download scratch_cratermaker.rkt
To use the design file above, you need a copy of Rocksim, a rocket design and simulation program.
Kit Name: Scratch - CraterMaker {Scratch}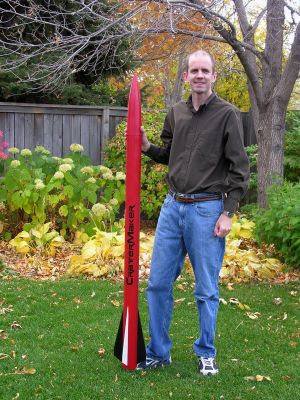 CG: 31.0000 inches from front
CP: 42.3511 inches from front
Margin: 3.63 Overstable
What You Can Do