Tornado Rocksim Design File
Comments: Actually a 1-stage rocket, but sims better as a 2-stage. Upper section flutters down like maple leaf. Fins are actually balsa, but Fir matches measured weight better.
Designer: Estes (RockSim by Bob Cox)
Download oop_estes_tornado.rkt
To use the design file above, you need a copy of Rocksim, a rocket design and simulation program.
Kit Name: Estes - Tornado {Kit} (2004) [1989-1998]
Diameter: 0.7360 inches
Length: 9.5000 inches
Style: Helicopter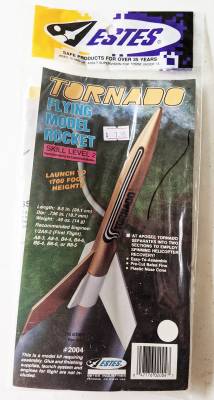 CG: 4.8816 inches from front
CP: 6.9606 inches from front
Margin: 2.82 Overstable
What You Can Do