Estes - Renegade-D Rocksim Design File
Comments: Estes Renegade D 2410 Skill level 3 Modified for 24x95mm motors. Pod fin tip chords should be fitted to the pod tailcones.
Download Renegade D.rkt
To use the design file above, you need a copy of Rocksim, a rocket design and simulation program.
Kit Name: Estes - Renegade-D {Kit} (2410)
Diameter: 1.6400 inches
Length: 26.6000 inches
Style: Futuristic/Exotic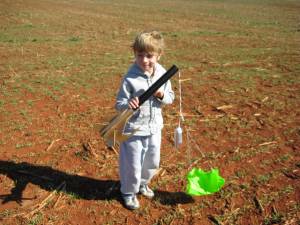 CG: 15.8352 inches from front
CP: 23.5186 inches from front
Margin: 4.68 Overstable
What You Can Do