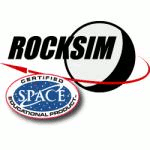 Madcow Rocketry Viper Rocksim Design File
Comments: This is a minimalist fiberglass kit. It comes without instructions, shock cord, parachute or recovery hardware. The tip of the nose cone is filled with epoxy, which adds some mass (accounted for in the nose cone mass). However, additional mass may be required for stable flight. Check this before gluing the nose cone, coupler and bulkead together. The image of this rocket on the Madcow Rocketry website shows the root edge of the fins flush with the base of the body tube. However, the length and position of the fin slots and TTW fin tabs cause the fins to extend past the base of the body tube as shown in this file. There is a lot of unused space in the nose and coupler. With a few extra parts, the coupler could be converted to an avionics bay. While an "H" motor will fit in the rocket, it doesn't leave much room for the recovery system unless the nose bulkhead is moved inside the coupler. As shown here, motors that are longer than the motor mount tube cannot be used.
Designer: Madcow Rocketry Rocksim file by David J. Thomas
Download Viper_with_chute.rkt
To use the design file above, you need a copy of Rocksim, a rocket design and simulation program.
What You Can Do