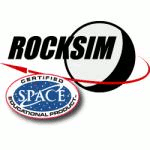 MPC - Duck Dodgers Cadet Cruiser Rocksim Design File
Comments: Simulation based upon an actual kit build. Cadet Cruiser is part of a series of model rockets themed around the Duck Dodgers Looney Tunes cartoons. The kit does not include an engine block/thrust ring; it uses the upper end of the engine hook as an engine block. In my rocket, I added an actual thrust ring. Engine overhang is longer than in most rockets. The body tube is pre-wrapped with a decorative decal. Additional decals are applied to the fins.
Designer: MPC; Rocksim file by David J. Thomas.
Download Cadet Cruiser.rkt
To use the design file above, you need a copy of Rocksim, a rocket design and simulation program.
Kit Name: MPC - Duck Dodgers Cadet Cruiser {Kit} (RKT009) [?-?]
Diameter: 1.3800 inches
Length: 17.3200 inches
Style: Sport
What You Can Do