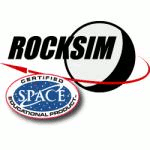 Quest Micro Roc Boingo Rocksim Design File
Comments: Featherweight recovery The nose cone is actually a repurposed hearing protection earplug. Other earplugs of similar size could be substituted to give alternate colors.
Designer: Quest Aerospace Rocksim file by David J. Thomas
Download Boingo.rkt
To use the design file above, you need a copy of Rocksim, a rocket design and simulation program.
What You Can Do