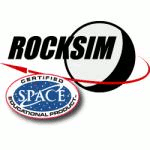 Rocketarium - Alamo Air-to-Air Missile Rocksim Design File
Comments: This simulation is based upon an actual kit build in summer 2021. Small, balsa detail parts are not included in the simulation.
Designer: Rocketarium; Rocksim file by David J. Thomas.
Download Rocketarium Alamo AA-10 (R27).rkt
To use the design file above, you need a copy of Rocksim, a rocket design and simulation program.
Kit Name: Rocketarium - Alamo Air-to-Air Missile {Kit} (RK-ALAMO)
Diameter: 1.6370 inches
Length: 30.1300 inches
Style: Scale
What You Can Do