estes_bandito.rkt Rocksim Design File
Contributed by Jarrett Gorin
Comments: This is a pretty accurate match of the actual kit. I had to model the plastic fin frame as an inside tube, but the weight is accurate for it. Also, there is a small ridge on the plastic engine cap that is not possible to model accurately. Flight simulations include all available Estes mini (13mm) motors. I live in Southern California, so these are all at 70 degrees Farenheit.
Designer: Design by Estes (Kit 0803). Dimension input by Jarrett Gorin. April 21, 2008.
Download estes_bandito.rkt
To use the design file above, you need a copy of Rocksim, a rocket design and simulation program.
Kit Name: Estes - Bandito {Kit} (00803) [2004-2008,2012-]
Diameter: 0.7300 inches
Length: 11.2000 inches
Style: Sport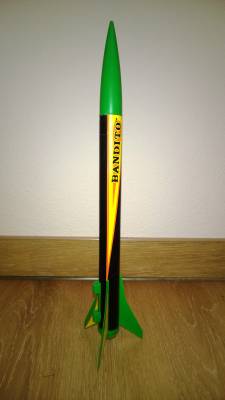 What You Can Do